Topped Toys
Topped Toys is the creation of people that really, really, really love sex toys. With decades of experience pushing physical and mental boundaries with many toys on the market, the folks from Topped Toys always felt they could do it better.
Each shape begins as a unique, hand-sculpted model inspired from imagination with an eye towards what would make for great hole play.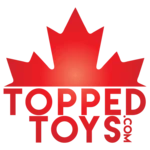 Featured
Best Selling
Price Ascending
Price Descending
Date Ascending
Date Descending
Name Ascending
Name Descending
Not find what you were looking for?
Tell us