Staff Favourite
New
Pre-Order
Out of Stock
The Grip
PRODUCT INFORMATION
Size Information
Caring For Platinum Silicone
CUSTOMER REVIEWS
PRODUCT INFORMATION
Wider and longer were the guiding principles when creating the gradually increasing sizes of the Topped Toys Grip series. This plug features extra height in the neck to make sure the huge width clears your (ruined) hole as you got up the scale. Slide over these wide plugs for an insane - and insanely comfortable - stretch that will leave you gaping.
The Grip locks in place perfectly while conforming to the contours of your hole thanks to our super soft material. Squeeze and you'll feel the base against your straining hole. It feels so good, you might never want it out.
This isn't your Daddy's cone plug (unless he's your Daddy 😉). With exceptional design detail and the best material available, The Grip is a cone plug that's made by sluts, for sluts. You'll love it. Trust us.
Like all Topped Toys, The Grip is made of their super soft platinum silicone which offers unparalleled flexibility while still providing maximum stretch. This platinum silicone is also easy to clean, dishwasher safe, stain and smell resistant, and certified for body contact applications.

ABOUT COLOUR VARIATIONS
Marbled colours like Forge Red have wide variations in the way the colours mix. These unique colour effects are the result of our hand-making process, and mean that your toy will be a-one-of-a-kind work of beauty.
Size Information
Topped Toys have an detailed page about how to choose the right Grip for you. Take a look
| Size | Max Circumference | Insertable Length | Neck Diameter | Neck Circumference | Max Diameter |
| --- | --- | --- | --- | --- | --- |
| 70 | 7"/17.8cm | 5.5"/14cm | 1.4"/3.6cm | 4.5"/11.4cm | 2.2"/5.6cm |
| 80 | 8"/20.3cm | 5.5"/14cm | 1.7"/4.3cm | 5.3"/13.5cm | 2.5"/6.5cm |
| 96 | 9.6"/24.4cm | 6"/15.2cm | 2"/5cm | 6.4"/16.3cm | 3"/7.6cm |
| 106 | 10.6"/27cm | 6"/15.2cm | 2.4"/6.1cm | 7.4"/18.8cm | 3.4"/8.6cm |
| 115 | 11.5"/29.2cm | 6.5"/16.5cm | 2.6"/6.7cm | 8.3"/21.1cm | 3.7"/9.3cm |
| 126 | 12.6"/32cm | 6.5"/16.5cm | 2.9"/7.4cm | 9.2"/23.4cm | 4"/10.2cm |
| 134 | 13.4"/34cm | 7.1"/18cm | 3.2"/8.1cm | 10"/25.4cm | 4.25"/10.8cm |
| 144 | 14.4"/37cm | 7.5"/19cm | 3.4"/8.6cm | 10.6"/27cm | 4.6"/11.7cm |
| 150 | 15"/38cm | 8"/20.3cm | 3.5"/8.9cm | 11"/28cm | 4.8"/12.2cm |
| 160 | 16"/40.6cm | 8"/20.3cm | 3.75"/9.5cm | 11.75"/29.8cm | 5.1"/13cm |
| 170 | 17"/43.2cm | 8"/20.3cm | 4"/10.2cm | 12.5"/31.8cm | 5.4"/13.7cm |

SELECTING YOUR SIZE
One of the most common reasons customers inquire about returning a product is because they have ordered a toy that is either too large or too small. Due to the personal nature of these products, we aren't anble to accept returns once the packaging has been opened. Please pay careful attention to the detailed dimensions above to make sure that you are ordering a size that you will be happy with.
Caring For Platinum Silicone
STORAGE
Keep away from direct contact with other toys of less high. Lower grade silicones, urethanes or rubber.
Store on a smooth surface with no sharp edges to cause indentations.
Dry fully before storage.
CLEANING
Topped Toys are dishwasher safe. Make sure to place the toy in a flat part of the rack that doesn't have pointy parts. Remove the toy from the dishwasher immediately after washing to avoid indentations from the dishwasher rack.
Disinfect toys after each use by rubbing them with 70% isopropyl alcohol.
Some lubes (oils and silicones) can be harder to fully wash off. If your toy starts to trap odours or becomes tacky, you can wipe the toy with an acetone dampened cloth to clean off any residue on the surface. Make sure to wash the toy thoroughly after cleaning it with acetone.
LUBES
Water Based: Water based lubes are a great option for use with your toys. They are the most inert lube option, and they clean up easily.
Oil Based or Grease: Crisco and coconut oil are popular oil based lubes that stick to the toy surface. Grease can't be used with vinyl or latex so be careful with condoms. Grease won't damage silicon
Silicone Lubes: While silicone lubes should not damage higher grade platinum silicone, it's usually best practice to use another type of lube if possible.
Topped Toys have more info about lube and caring for your toys. Click here.
LATEST ARRIVALS
Free UK Shipping
Spend over £50 on eligible items.
Secure Payments
Visa, MasterCard, American Express & PayPal.
Returns & Exchanges
Easy 30 day returns on stock items.
Plain Packaged
We use discreet plastic-free packaging.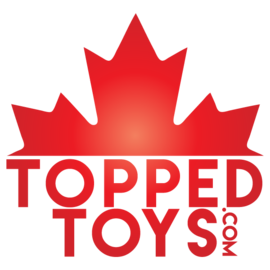 Topped Toys have a true passion for designing and moulding toys for adventurous individuals. Their range of expertly thought out shapes are all formed in the finest platinum silicone. Each shape begins as a unique, hand-sculpted model inspired from imagination with an eye towards what would make for great hole play.
Related Products
From Our Community