Cockring Fitting Guide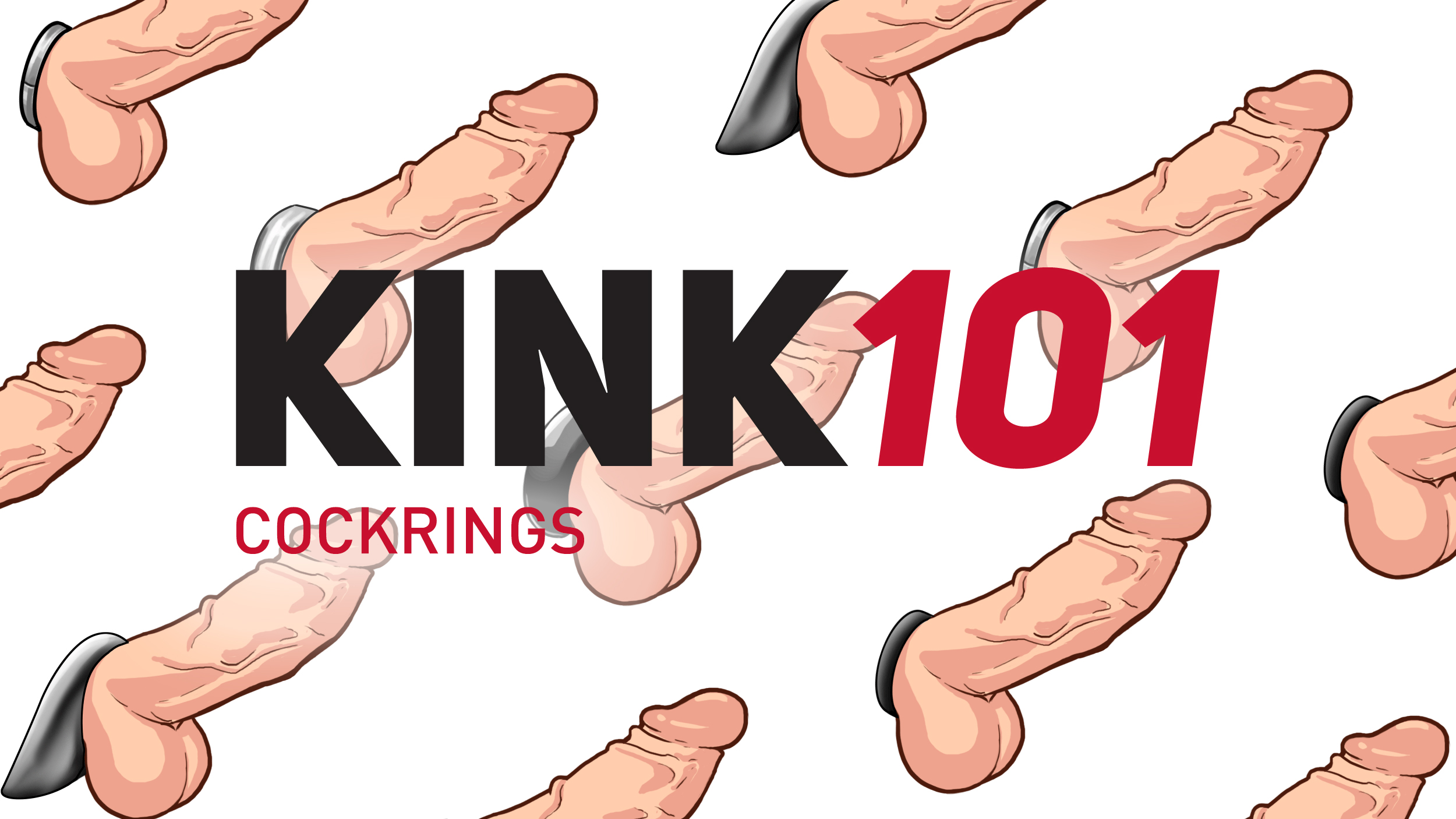 Cock rings are sex toys usually worn around the base the penis and behind the balls. They come in a wide range of materials and designs including solid steel and sometimes with vibrating attachments. The purpose of most solid or constricting cock rings is to restrict the flow of blood into the shaft of the penis, preventing it from flowing out and maintaining erections. Wearing a cock ring may also increase sensation, which can make jacking-off, receiving oral or giving anal sex more pleasurable.
PREPARE
There are three things to think about before you put on your cock ring:
Get the right size ring
Too loose won't give you the desired effect or may fall off. Too tight will be uncomfortable or cause problems with removal. You can measure using a string or tailors measuring tape. Wrap it around the base of your penis behind your balls to get a measurement of the circumference. Not too tight. This should be gently wrapped, firmly against your skin but not squeezing flesh into any wrinkles. 
Use Lube
A silicone or water based lube will help you slide on the ring. Don't go mad though, you'll need enough grip to get everything in place.
Trim or shave
No essential but a smooth cock and balls will make insertion and extraction much simpler. It also can feel great but it's a personal choice.


HOW TO PUT THE COCK RING ON
STEP 1

Begin by pulling your balls, one at a time, through the ring starting with the larger hanger.

STEP 2

Pull the excess scrotum through the ring so the balls have somewhere to go.  Once your 1st ball is through, pull more scrotum through so the second ball has somewhere to drop more easily.




STEP 3

Next, fold your penis down and inside the tip under the ring.

STEP 4

Once through, hold the tip of your penis with one hand, while pulling the ring up towards your body with the other. 

Then adjust as necessary for comfort and enjoy the sensations. 
WHAT ARE COCK RINGS MADE OF? 
Cock rings can be made of silicone, TPE, metal, leather, cotton, elastic — basically, if it can reduce circulation to your cock, it can be a cock ring. What material you choose depends on what kind of sensation you want to have — if you're a total new, a stretchy, thick doughnut-shaped ring made of silicone or stretchy rubber is probably a good way to start so you can see what it's like to have something around your dick which is initially easier to get on/off.
As you get more comfortable you can try something more rigid and inflexible like steel or leather. Some guys have a particular preference one way or another based on the level of comfort or restriction they're looking for.
HOW LONG CAN I LEAVE A COCK RING ON?
The recommended maximum time for wearing any kind of constricting item is 20 - 30 minutes. Extended wear could start causing damage. Make sure you take regular breaks by removing your cock ring. If you're experiencing any pain or if you start feeling overly numb, hot or cold, immediately remove. It's also advised to never wear a solid cock ring whilst taking erection pills such as Cialis. These can make removing the cock ring very difficult or impossible until the erection has subsided.
COCK RING REMOVAL
Reverse the steps above. The more flaccid and well-lubed you are, the easier it'll be to slide off. Cold showers can also help.